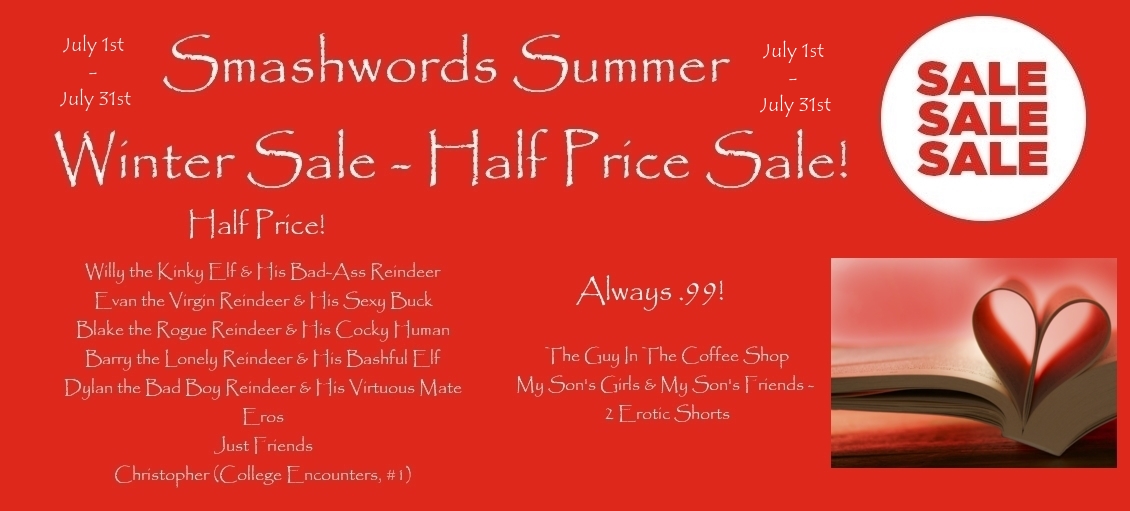 From July 1st through July 31st all my books that are published on Smashwords – with the exception of My Son's Girl and My Son's Friends (2 Erotic Shorts), and The Guy In The Coffee Shop – are on sale for half their original price. This includes the entire Willy the Kinky Elf series. Until recently, only Willy the Kinky Elf & His Bad-Ass Reindeer and Evan the Virgin Reindeer & His Sexy Buck were on there. I finally took the time to add them all so I could include them in this sale. I've also added Christopher (College Encounters, #1).
The Taking Lance series is still only available on Amazon so it's not part of the Smashwords promotion. I'd love to put the Lance books back on other sites but apparently the first book in the series was suddenly a big no-no to every e-tailer except Amazon so I pulled them all. No actual incest, yet it was too naughty for even Smashwords. I don't think I'll ever understand that.
If you've been curious about checking out some of my books and haven't done it yet, this is the perfect time. The links below take you my Smashwords profile and to the individual book pages. I've added the sale prices.
I may add my upcoming release, An Unlikely Romance – Ben & Mason, when it's published. I'll update everywhere if I do.
Willy the Kinky Elf & His Bad-Ass Reindeer – .99
Evan the Virgin Reindeer & His Sexy Buck – $1.25
Blake the Rogue Reindeer & His Cocky Human – $1.50
Barry the Lonely Reindeer & His Bashful Elf – $1.50
Dylan the Bad Boy Reindeer & His Virtuous Mate – $1.50
Christopher (College Encounters, #1) – .99
Books That Are Always .99 
The Guy In The Coffee Shop – .99
My Sons Girl & My Son's Friends – 2 Erotic Shorts (M/F erotica) – .99