Luke the Hybrid Reindeer & His Vivacious Elf (Willy the Kinky Elf & His Bad-Ass Reindeer, #6) and Kane the Fake Elf & His Sexy Mall Santa are both live!
I hope you enjoy reading about Luke and Micah and Kane and Sam! Keep reading after THE END of 'Luke' for info on two free bonus scenes.
More e-tailer links will be added as they become available.
Luke the Hybrid Reindeer & His Vivacious Elf (Willy the Kinky Elf & His Bad-Ass Reindeer, #6)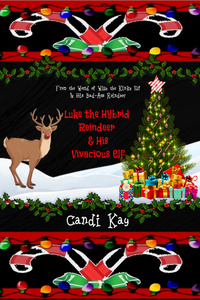 Blurb –
From the World of Willy the Kinky Elf & His Bad-Ass Reindeer.
The North Pole isn't exactly as it appears in fairy tales. It has the elves and Santa and his reindeer, but Santa and Mrs. Claus aren't the jolly couple the world believes them to be. The reindeer are all shape-shifters who transform into gorgeous beings in human form and are respected by all.
Luke has always known he was different. He's never fit in with the reindeer or the elves. When long-buried secrets come to light, he has no choice but to run. Forced to hide or risk his brother being caught in the crossfire, he does what he has to do to survive. He stays hidden well until the one moment he makes the mistake of letting his guard down.
Micah Matthews is one of the most loved nurses in the North Pole. He's funny, cute, and good at his job. When the big man himself requests Micah as a private nurse for a special patient, he agrees without hesitation. What he doesn't expect is to find his mate in the process. Micah knows it would be all kinds of wrong to stay as Luke's nurse once he discovers the truth, but is walking away even an option? What if the attacker somehow manages to find him and finish what he started?
Between a matchmaking elf and Santa Claus actually being nice, Luke is convinced he's been dropped into the Twilight Zone. Throw in some Peppermint Whiskey, a super-hot nurse, and a younger brother who may or may not have the hots for Santa, and Luke knows his life will never be the same again.
256 Kindle pages.
Amazon | Apple Books | Kobo
~~*~~
Kane the Fake Elf & His Sexy Mall Santa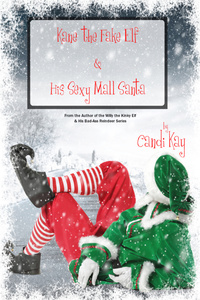 Blurb –
Kane's been one of Santa's little helpers for five years and has always enjoyed his part-time holiday gig playing an elf. Well, until he meets the newest mall Santa Claus anyway. Sam Clausen is thirty to Kane's twenty-two, but that doesn't stop Kane from wanting to be Sam's Ho! Ho! Ho! One glance at the man outside the costume and it's instant lust. Unfortunately, while Sam is great with children, he's a grumpy Santa to Kane. Everything changes when Sam witnesses Kane's elfy-self making a certain little boy giggle.
When Kane discovers that the man he's been lusting after has five-year-old twins, his fantasies fly off with Santa's reindeer. He refuses to be Sam's secret fling if he's taken, and he has no desire to become an instant daddy to somebody's children.
Will Kane give in when Sam makes his interest known? Or will he run away without seeing what could happen with Sam and his little family?
Tags: Christmas, Children, Contemporary, Family, Older Man/Younger Man, Romance, Short Story
76 Kindle pages.
Amazon | Apple Books | Kobo | Smashwords