I'm happy to announce that my new release, Christmas in Holly Pines (Small Town Gay Romance) is up for pre-order on Amazon. It'll be published on November 1st.
This is my first time in years to not be writing about Willy the Kinky Elf and the rest of the North Pole gang. I have to admit, it's been really hard not jumping into their world over the past few months. I'm not going to lie… I miss the hell out of those guys. But it was time to move on.
Christmas in Holly Pines has been in the works for a couple of years. It tells the tale of two sets of brothers who come together thanks to a matchmaking seven-year-old boy. The first part of the book – that would be Jacob and Owen's – was written and completed two years ago. It was originally written to just be their story. I didn't publish it because it wasn't time. Then last year I made the decision to add both Jacob and Owen's brothers – Dustin and Reese – to the mix.
While I haven't made a definitive decision yet, there's a big chance Christmas in Holly Pines will be on Kindle Unlimited, meaning it will only be available on Amazon for the first 90 days. I hate doing that but it might be the best option.
Another thing to note – the entire Willy the Kinky Elf & His Bad-Ass Reindeer series will also go into KU. This likely won't happen until after January 1, 2022, as I simply don't have the time to finish reformatting them, nor do I want to go through the hassle of pulling them from the other e-sites right now.
I hope you all enjoy Jacob & Owen's and Dustin & Reese's stories. Both stories are in one book and told in alternating points-of-view. Each story plays out until the very end. You can find the info below.
It's roughly 103,000 words, or 367 Kindle pages. It's long because, as I said above, it's 2 stories in one.
You can find the pre-order link here.
On October 21st I'll be giving away an e-copy of Christmas in Holly Pines as well as a $10 Amazon gift card as I help On Top Down Under Book Reviews celebrate 9 years. I'll update with the link when it goes live. Click the link to check out their schedule of events for October. There are a bunch of great author posts and giveaways happening.
Until next time,
Candi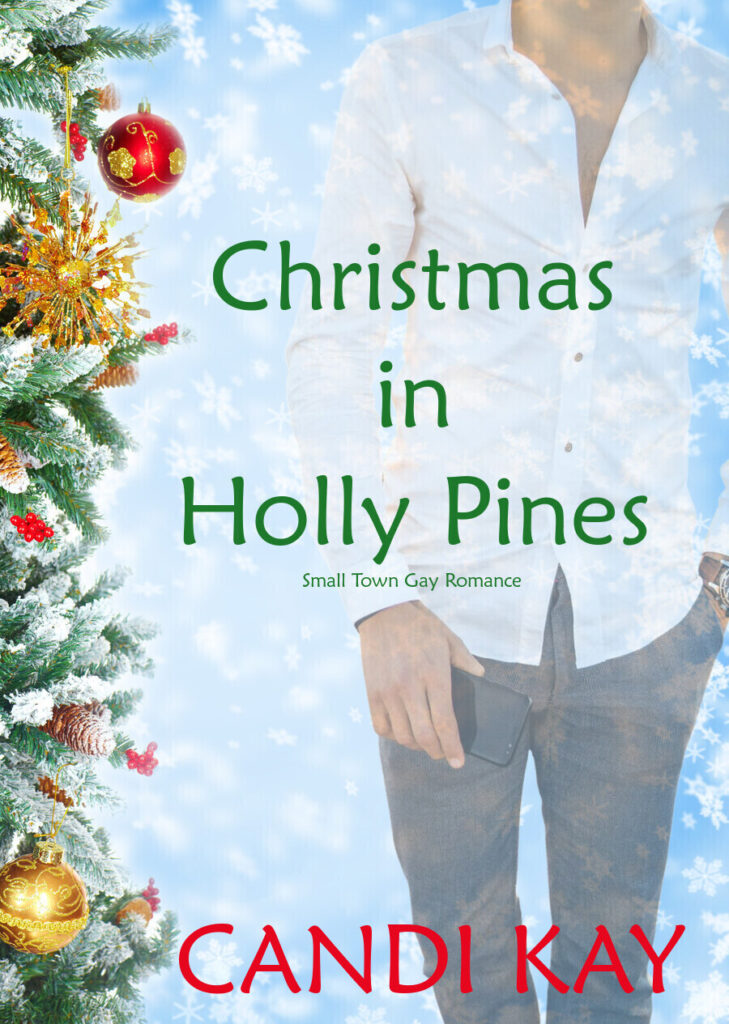 Blurb
Holly Pines, Vermont, is a traditional small tourist town. In the off-season, there are fewer than two thousand residents. A snow skiing paradise, that number increases dramatically during the holidays. It's been home to brothers Jacob and Dustin Knight their entire lives.
Being the chief of police in a busy tourist town makes it hard for Jacob to find the time to date. Dustin is bisexual and has plenty of options but no interest in anyone in town. He's a single father who knows that anyone he brings into his world has to accept that he and his son are a package deal.
Owen Wells is a professional photographer who plans to snap a few shots of the Christmas lights on Holly Pines Bridge then be on his way. A matchmaking seven-year-old boy has other ideas. When unforeseen circumstances keep Owen in town overnight, sparks fly between the photographer and chief of police. Suddenly, Owen's not so keen on leaving after all.
Reese Wells is a traveling nurse who never stays in one place for long. His older brother may have found love, but he has no plans to follow suit. That changes during a video call with Owen and young Jesse Knight. When the boy's dad joins the chat, all bets are off. Reese is suddenly eager to take a trip to the small town of Holly Pines, Vermont.
Jacob and Owen's relationship runs smoothly from the get-go. Dustin and Reese's, not so much. Between a quick misunderstanding, a jealous nurse, a busybody teacher, and a less than maternal ex-wife, these guys have to work hard to become the family they desperately want to be.